Buck 684 BuckLite Max ' II Small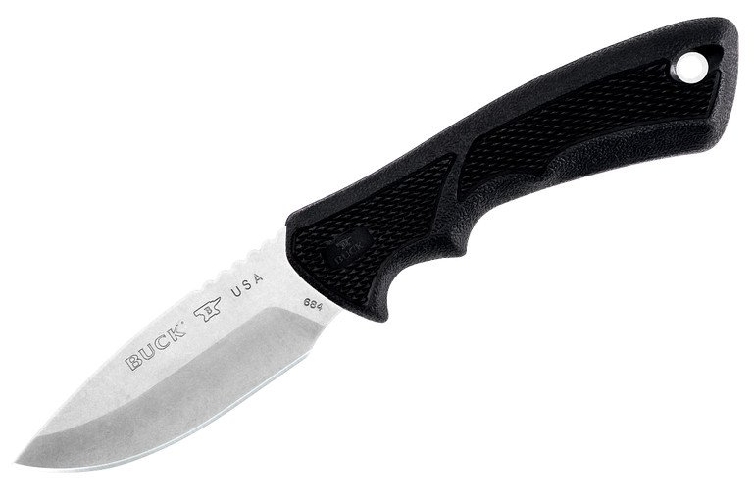 Smallest of the BuckLite Max II family, this skinning knife is made for details. Its full tang, ergonomic handle is constructed
out of Dynaflex® rubber for superior grip, performance, and light weight. The drop point blade has been tumbled finished,
for a less porous, improved corrosion resistance. Buck's advanced Edge2x blade technology has been applied to the blade
resulting in insane sharpness out of the box.
Comes with a heavy-duty, black polyester sheath.
Made in the USA.

Blade Shape: Drop Point
Blade Thickness: 0.090"
Blade Length: 3 1/4" (8.3 cm)
Weight: 2.8 oz. (79.4 g)
Handle: DYNAFLEX® RUBBER
Carry System: SheathAvailable Features and Options
420HC Steel
This is Buck's standard blade material because it approaches the wear resistance of high carbon alloys while delivering
the corrosion resistance of chromium stainless steels. Add our exclusive heat-treat process and you have a very user-friendly
combination of superior corrosion resistance with excellent strength for wear resistance and durability. You also have a blade
that is easy to resharpen. For best performance we harden to a Rockwell hardness of Rc 58.

Drop Point
This blade is full bellied with a strong, thick point for heavier tasks. It can also be used as a general work knife.
The top of the blade drops down toward the tip, which minimizes accidental puncturing while skinning. The drop point
blade is strong and very versatile.
We only have 5 items left. Don't miss out!