Knifekut Economy Skinning Knife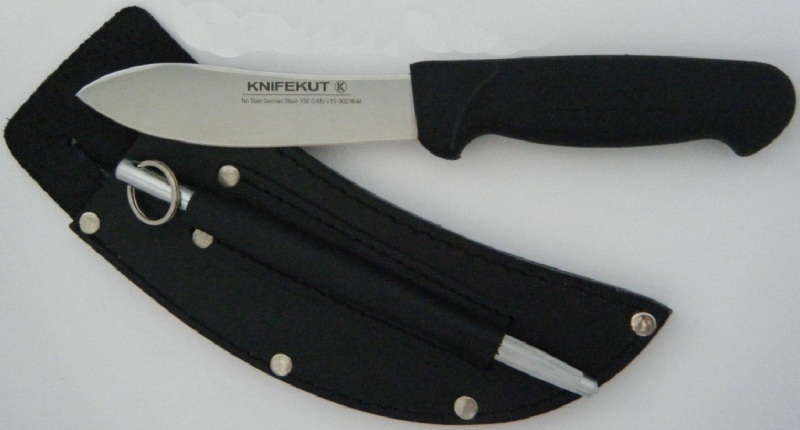 The Knifekut economy skinning knife set consists of a 15cm German steel multi purpose skinning knife in a curved, stitched and riveted leather sheath with a 16cm sharpening steel.
Sorry we are out of stock!
Model# 9016M
Blade Length: 15cm
Handle: Black
Includes:Knife, Sharpening Steel and Leather Sheath
* 15cm Knifekut (Montana)/Lamb/Venison/Skinning/Stiff
* Designed specifically for the New Zealand requirements in consultation with the Trade.
* NSF Approved.
* German Steel.
* Lifetime warranty against original Manufacturers defects
* Handle with Anti-Slip Texture (Finish)
Leather Sheath
* Belt Loop on Sheath
* Curved
* Hand Made
* Leather
* Stitched & Quality Rivets
Blade:
* X50CrMoV15 - German Origin Steel
* X = Surgical Steel
* 50 = 0.5% Carbon for Sharpness, Edge Retention and Honing of Blade
* Cr = Chromium for Stain Resistant properties
* Mo = Molybdenum for Enhancement of Stain Resistant properties
* 15 = Contents of Chromium % (15%)
* Blade Hardness: 55-57 Hrc (Rockness)
Cambrian Sharpening Steel
* 16cm
Details of the product above will be automatically included with your enquiry.