Buck 285 Bantam BLW - Kryptek Highlander Camo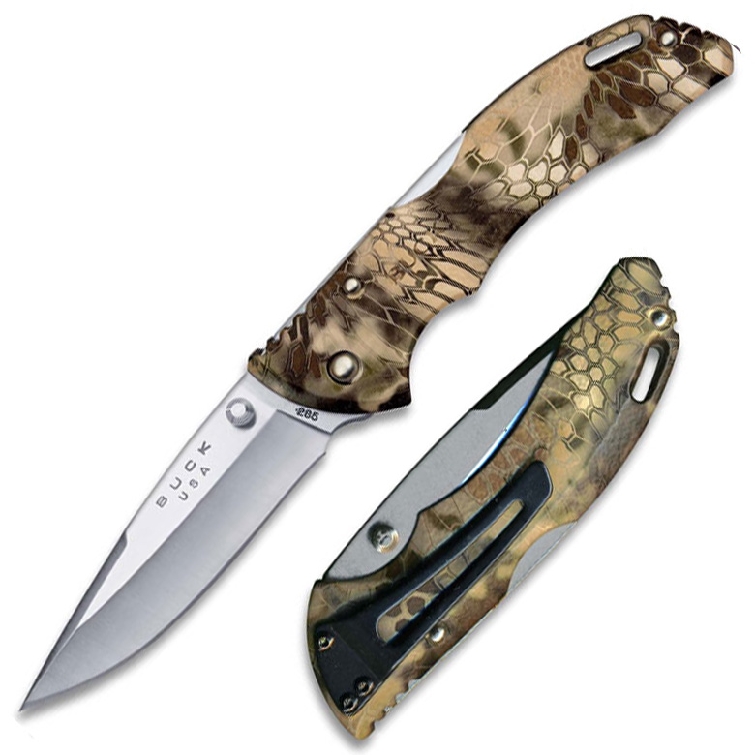 The sleek, lightweight Bantam was designed to meet any personality and priced to meet every wallet size. From the tip
of the blade to the wide sloping edge, these knives are perfect for outdoor tasks. Lightweight, safe and affordable, the
Bantam's feature a stylish handle with textured surface for added grip. Features such as thumb studs on both sides of
the blade and a mid-lock back location allow for easy one hand opening and smooth closing. The contoured handle
makes this knife easy and safe to use in the woods or for daily tasks. Features a stainless steel pocket clip that can be
removed for pocket carry. Length 4 3/8" closed. The Bantam line of knives is offered in several different handle patterns
and sizes to meet your needs. Made in the USA of USA and imported parts.

Blade Shape: Drop Point
Blade Length: 3 1/8" (7.9 cm)
Weight: 2.4 oz. (68.3 g)
Handle: INJECTION-MOLDED - Kryptek Highlander Camo Pattern
Carry System: Pocket Clip
Origin: Made in the USA

Features and Options
One Handed Opening
Has a thumb stud, blade hole or other feature to facilitate one-hand use. Some models are one-hand opening and
one-hand closing as well..
20HC Steel
This is Buck's standard blade material because it approaches the wear resistance of high carbon alloys while delivering
the corrosion resistance of chromium stainless steels. Add our exclusive heat-treat process and you have a very user-friendly
combination of superior corrosion resistance with excellent strength for wear resistance and durability. You also have a blade
that is easy to resharpen. For best performance we harden to a Rockwell hardness of Rc 58.

Drop Point
This blade is full bellied with a strong, thick point for heavier tasks. It can also be used as a general work knife. The top of the
blade drops down toward the tip, which minimizes accidental puncturing while skinning. The drop point blade is strong and very
versatile.
We only have 4 items left. Don't miss out!