Stoney Creek Stow It Jacket - Tuatara Forest
U P D A T E
As at 3pm Tuesday 24.03.2020
We are open on the 24th and 25th while the level 3 lockdown is in place. 
Normal hours Tuesday. 9am - till we slow down on Wednesday. This includes both Greymouth & Hokitika stores.
*** We will be in lockdown for a minimum of 4 weeks ***
Services: 
* Mountain Radios - no new radios will be issued or hired until alert level has been reduced to level 1 
* NZ Couriers - The Hokitika Branch is a Depot for NZC, this will mean that NZC customers will have to contact NZC direct in Christchurch to organise pick ups and or purchase bags & tickets. 
you can find a contact here - https://www.nzcouriers.co.nz/
We will do our best to fulfil any online orders made. Our website will still be operational during lockdown and any orders will be shipped when the lockdown is lifted.
Keep safe team !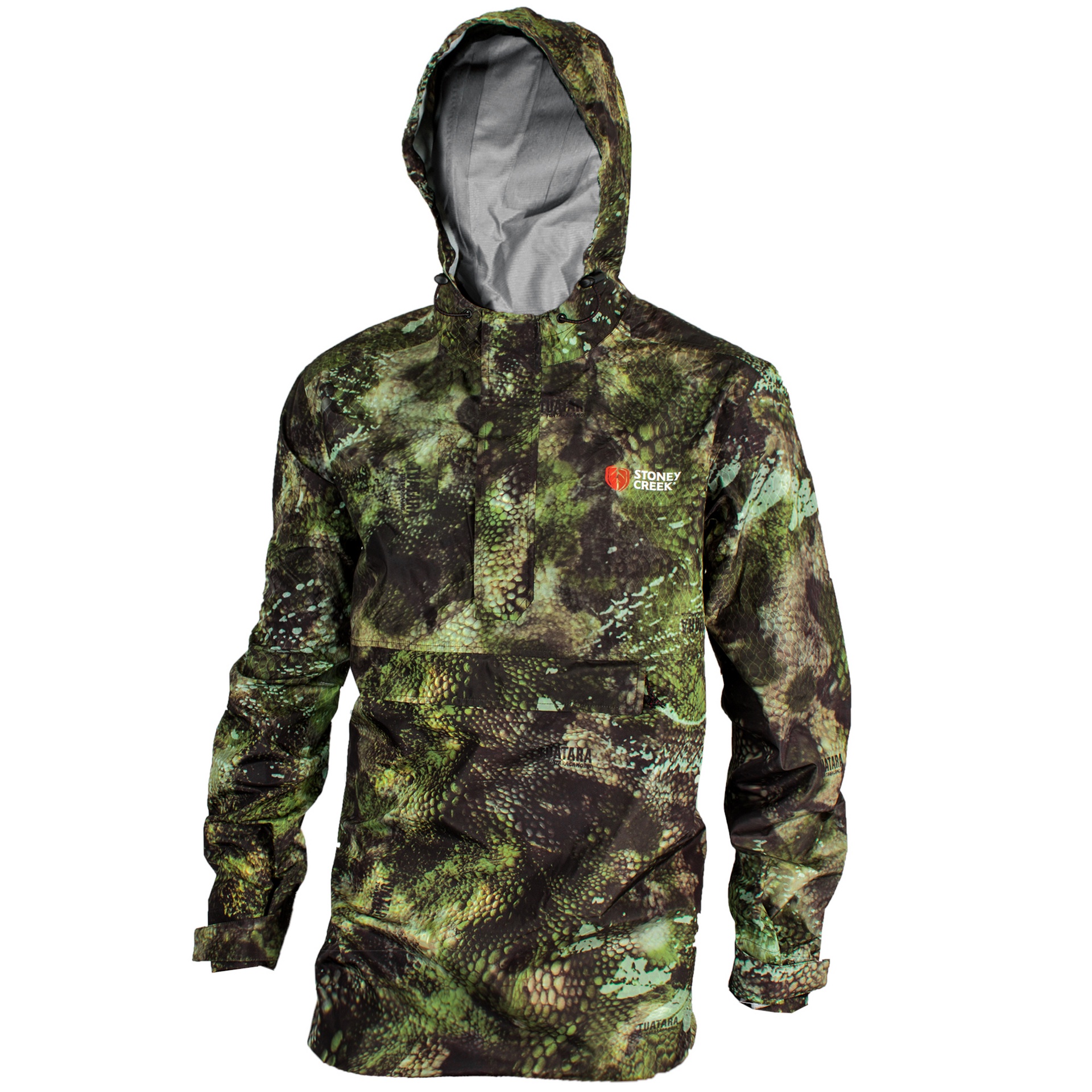 The StowIt jacket has been specifically designed to keep you dry during those unexpected downpours while hunting in unpredictable weather.
Light, fast drying and packs down into pocket, weighing less than 400 grams (size L)
Features 
• Long covered front-zip, easy to pull on and off
• Adjustable cuffs to seal in warmth
• Packs into front pocket for easy transport / packing

Fabric
A 3-layer polyester, 100% waterproof (8,000 ASTM tested), 100% windproof, 100% seam sealed and ultra lightweight fabric. Moderate breathability. The tight woven construction and DWR coating stops the fabric soaking up the water.

Performance
100% Waterproof (8,000 ASTM tested)
100% Windproof
100% Seam Sealed
Lightweight

Care
To maintain top performance of your Stoney Creek garment we recommend a regular warm washing at 40 degrees, inside out with a non-powdered laundry detergent (Sports Wash) and occasional warm tumble dry, inside out.
A warm wash assists in killing bacteria and the warm drying for 20 minutes revives the fabric and rejuvenates the DWR and the Teflon coating ensuring on-going performance.
NB: Powdered detergents have UV brightness visible to animals. We recommend reapplying DWR every two years. It is not recommended to store your garment damp, wet and scrunched.