Knifekut 14.5cm Outdoorsman Knife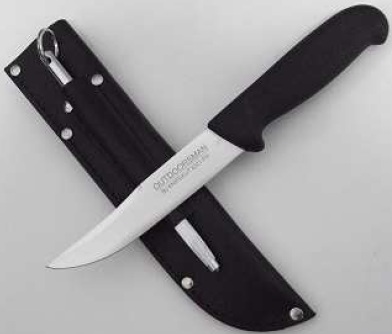 * Designed specifically for the New Zealand requirements in consultation with the Trade.
* Lifetime warranty against original Manufacturers defects
* 14.5cm Outdoorsman Drop Point, Multi-Purpose Bushman's / Hunters Knife
Sorry we are out of stock!
Model# 6321-FH3pc Rabbiters Set
Blade Length: 14.5cm
Handle: White
Includes: 14.5cm Outdoorsman Knife "The Ultimate all Round Knife", 15cm Sharpening Steel and Leather Belt Attachable Sheath
* Designed specifically for the New Zealand requirements in consultation with the Trade.
* Lifetime warranty against original Manufacturers defects
* 14.5cm Outdoorsman Drop Point, Multi-Purpose Bushman's / Hunters Knife
Leather Sheath
* Belt Loop on Sheath
* Hand Made
* Leather & Quality Rivets
Handle:
* Rough Textured, Voluminous Design for Secure Grip and Safety
* Colour Black
Blade:
* Japanese
* Carbon
* Stain resistant steel for sharpness
* Edge retention
* Honing of blade
* Blade hardness rating, approx 52hrc (rockness)
* Hard finished edge
6
Details of the product above will be automatically included with your enquiry.