KWC Airsoft Glock 17 Pistol - Clear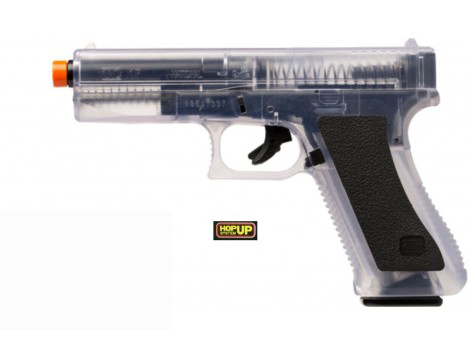 This Glock 17 replica by KWC is spring-powered, single-shot BB gun that fires 6mm plastic BB's at velocities of up to 255 feet per second (using 0.2g BBs).
With its durable internals, full tough ABS Polymer construction, makes this pistol both accurate and reliable.
Fully licensed replica with functional safety and slide back cocking.
Just what you need for your next game of 'BB Wars!'

Specifications:
Weight: 320g
Length: 187mm
Mag Capacity: 12 ronds
BB: 0.2g 6mm White Plastic
System: Spring power with Hop Up

Includes 100pc bag 0.2g BB's

The purchaser must be 18 years of age or hold a firearms licence to buy. These are not toys.
Sorry we are out of stock!
M92 1:1 Scale Replica Same Pistol as NZ Police Issue

Transparent / Black (Clear ABS)
System: Spring power with Hop Up Technology
Mechanical 6mm Air Soft
BB: 0.2g 6mm White Plastic
Functional Safety
Mag Capacity: 12 rounds
Drop free magazine
Fixed front and rear sights
Energy 0.6 Joule Max
255fps (78mps)
Recoil Non – Blowback
Full ABS Construction
Length: 187mm
Weight: 360g
Made in Taiwan
Officially Licensed & Trademarked
Details of the product above will be automatically included with your enquiry.