Back Country Cuisine 2 Serve Meals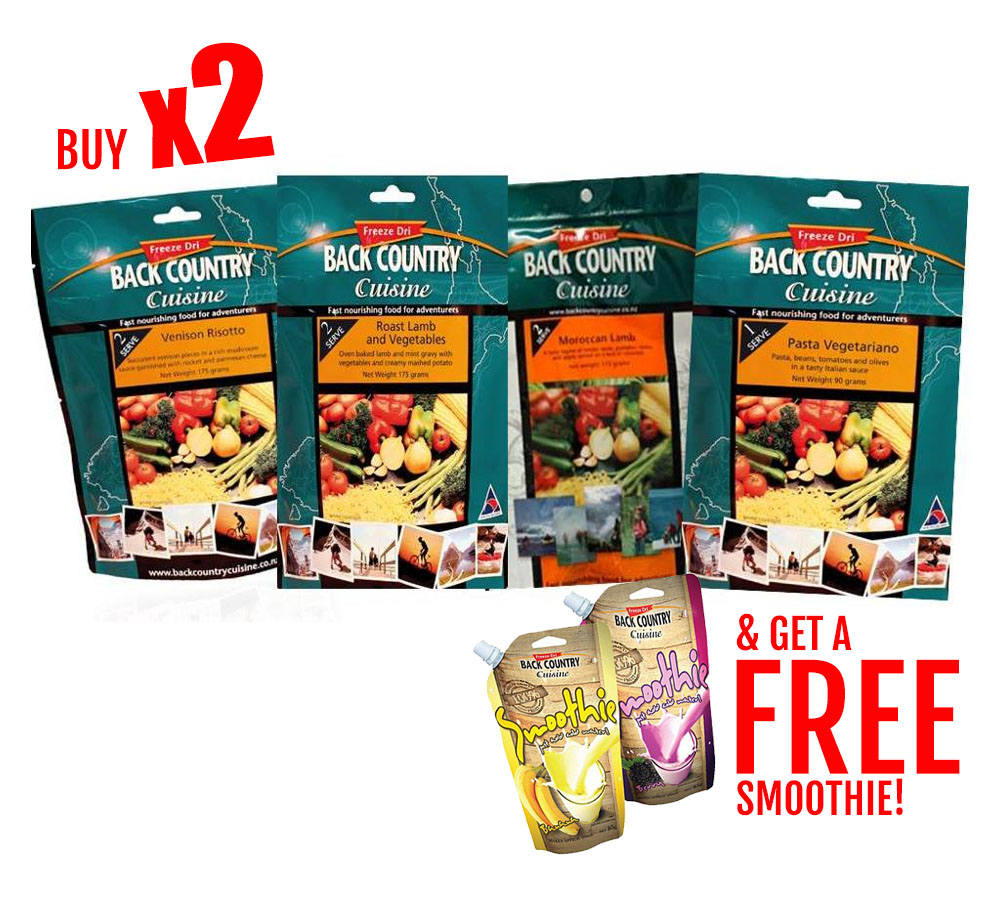 Keep your energy pumping during the day with the Back Country Cuisine range of meals which deliver a nutritionally balanced meal in just minutes.

Perfect for stashing in the pack while camping, tramping or heading up the slopes snowboarding, these tasty packs are incredibly easy to prepare and great tasting. An ideal way to maintain your active lifestyle in the wilderness or keep a few spares for emergencies.

The blend of carbohydrates and sugars provide instant energy, protein to replenish exhausted muscles and oils and fats for energy store. Blended from freeze dried vegetables, these food packs are processed to retain their natural flavours and can be prepared in the pack by just adding water.

All packets have a Net Dry Weight: 175gm

Note: All Back Country Cuisine has a minimum expiry date of at least 12 months from purchase.
For Nutritional Information, please click here.
Thai Chicken Curry:
The distinctive Thai taste of coconut milk and curry with chicken, green beans and cashew nuts.
2x Serves per pack, Serving size 308grams
Beef and Pasta Hotpot
Traditionally flavoured beef casserole accompanied by a generous serving of pasta.
2x Serves per packet, Serving Size 308grams
Honey Soy Chicken:
Sweet and spicy blend of rice, chicken and vegetables.
2xServes per pack, Serving Size 337grams
Roast Lamb and Vegetables – No Gluten
Oven baked lamb and mint gravy with vegetables and creamy mashed potato.
2x Serves per pack, Serving Size 328grams
Spaghetti Bolognaise:
Tender beef mince with tomato in a savoury sauce, served on a bed of noodles.
2x Serves per pack. Serving Size 338grams
Beef Stroganoff:
The Russian classic of beef pieces, and mushrooms in a sour cream sauce, served with rice and garnished with potato sticks. 
2x Serves per pack. Serving Size 287.5 grams
Moroccan Lamb
A tasty tagine of tender lamb, pumpkin, raisins and apple served on a bed of couscous.
2x Serves per pack. Serving Size 308 grams
Roast Chicken
Tender chicken slices, vegetables and stuffing smothered in gravy and served with mashed potato.
2x Serves per pack. Serving Size 328 grams
Nasi Goreng – No Gluten
A healthy blend of brown rice, vegetables, egg omelette in a mild asian sauce.
2x Serves per pack. Serving size 248 grams
Pasta Vegetariano
Pasta, beans, tomatoes and olives in a tasty Italian sauce.
 2x Serves per pack. Serving size 308 grams
Classic Beef Curry – No Gluten 
Heart-warming mix of curried beef, rice and vegetables.
 2x Serves per pack. Serving size 337 grams

Beef Teriyaki:
Eastern style dish of beef, rice and vegetables in a soy flavoured sauce.
2x Serves per pack. Serving size 308grams 

Lamb Fettuccine:
A delicate sour cream sauce smothering noodles with tender lamb and vibrant vegetables.
2x Serves per pack. Serving size 288grams 

Chicken Tikka Masala:
Popular Indian dish with tikka chicken and almonds in a mild spicy sauce served on rice.
2x Serves per pack. Serving size 288grams 

Chicken A La King:
 An American favourite of juicy chicken with mushrooms and roasted red pepper in a creamy mushroom sauce.
2x Serves per pack. Serving size 337grams

Smoked Fish Pie:
The familiar favourite of smoked fish pieces, egg and potato with a cheese topping
 2x Serves per pack. Serving size 288grams 
Cooked Breakfast:
A hearty combo of smokey beef, tomato, egg and a hash brown potato mix. Gluten Free.
Serves per pack 2. Serving size 337.5g
Jamaican Goat Curry:
Tender curried goat served with rice and vibrant vegetables.
Serves per pack 2. Serving size 337.5g