Tica Surf Combo Galant 1463 with GTY10000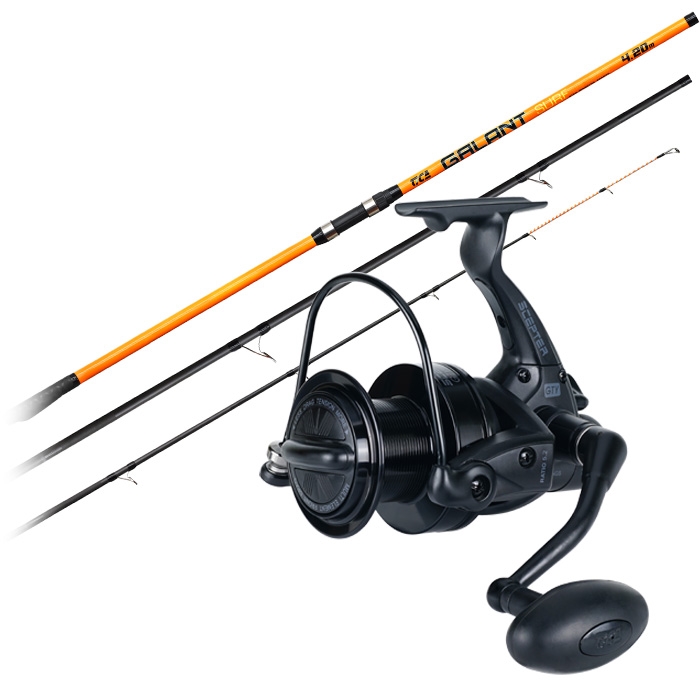 Looking to assemble a combo for more powerful and longer casts? Check out the TiCA Scepter GTY10000 Galant 1463 Surfcasting Combo. This awesome new combo matches the strength and power of the Tica Scepter GTY10000 Long Cast Spinning Surf Reel with the high-performance accuracy of the TiCA Galant 1463 Spinning Surf Rod. A new set of powerful gear for tough battles ahead!
We only have 4 items left. Don't miss out!
The Reel
The Tica Scepter GTY10000 Long Cast Spinning Surf Reel is a long cast, big pit reel that's perfect for saltwater surf and rock fishing. It has 7 RRB rust resistant bearings, a stainless steel main shaft, Worm shaft oscillating system, high speed 5.2:1 gear ratio, solid aluminium bail wire and a titanium plated anti-twist line roller to prevent wear from super braid lines. The main body is reinforced with graphite to prevent the reel from twisting when under load. Fitted with carbon washers this reel has max drag of 8kg. Plus it has a completely matte black cosmetic for a sleek stealthy look.

The Rod
The TiCA Galant 1463 Spinning Surf Rod is made using high modulus interwoven carbon fibre. The 4.5m, 3-piece slim line blank features a hybrid tip constructed from high-strength graphite for more power and accurate casting. The hybrid tip also features a reflective finish for night fishing. The rod butt features an ergonomic palm swell to ensure your hand placement is the same for every cast, so you can aim your casts with confidence. Fitted with lightweight low profile guides to make the rod very light in the hand, with a finished total weight of only 550 grams. This is a high performance rod for the discerning angler that wants distance and accuracy, to place casts exactly where the fish are holding.
Tica Scepter GTY10000 Long Cast Spinning Surf Reel Features:

7 RRB sealed precision stainless steel Rust Resistant Ball bearings
Graphite reinforced body
Anti-twist line roller with bearing
Long-life bail spring
Anodised aluminium alloy spool
Computer balanced rotor
One-way clutch instant anti-reverse roller bearing
Worm shaft oscillating system
Click alert for a light strike
Long shaft for better line winding
Right/ left interchangeable handle
Soft-touch power handle knob
Solid aluminium bail wire
Heavy pressure resistance gear for strength and smoothness when winding
Supplied with No.10 tapered casting spool; capacity of 305yds of 20lb (280m of.45mm) mono
Smooth powerful carbon drag washers
Slow oscillation improves line lay on spool with a slower up and down stroke, reduces friction when line flows out for a longer distance casting
Weight; 620g
5.2:1 retrieve ratio, retrieves 114cm line per handle turn
Max Drag; 8kg
Capacity 285/25lb, 310m/0.30mm
TiCA Galant 1463 Spinning Surf Rod Features:
High modulus interwoven carbon fibre
Slim line blank
Hybrid tip made from high-strength graphite for more power and accurate casting
Hybrid tip features reflective tip for night fishing
Rod butt features an ergonomic palm swell to ensure your hand placement is the same for every cast
Lightweight low profile guides

TiCA Galant 1463 Spinning Surf Rod Specifications:
Length: 4.5m (14ft 9in)
Cast weight: 100-220g
Pieces: 3
Weight: 550g