Sonic Suppressor The Ghost 40 6mm-9.5mm 1/2"x20UNF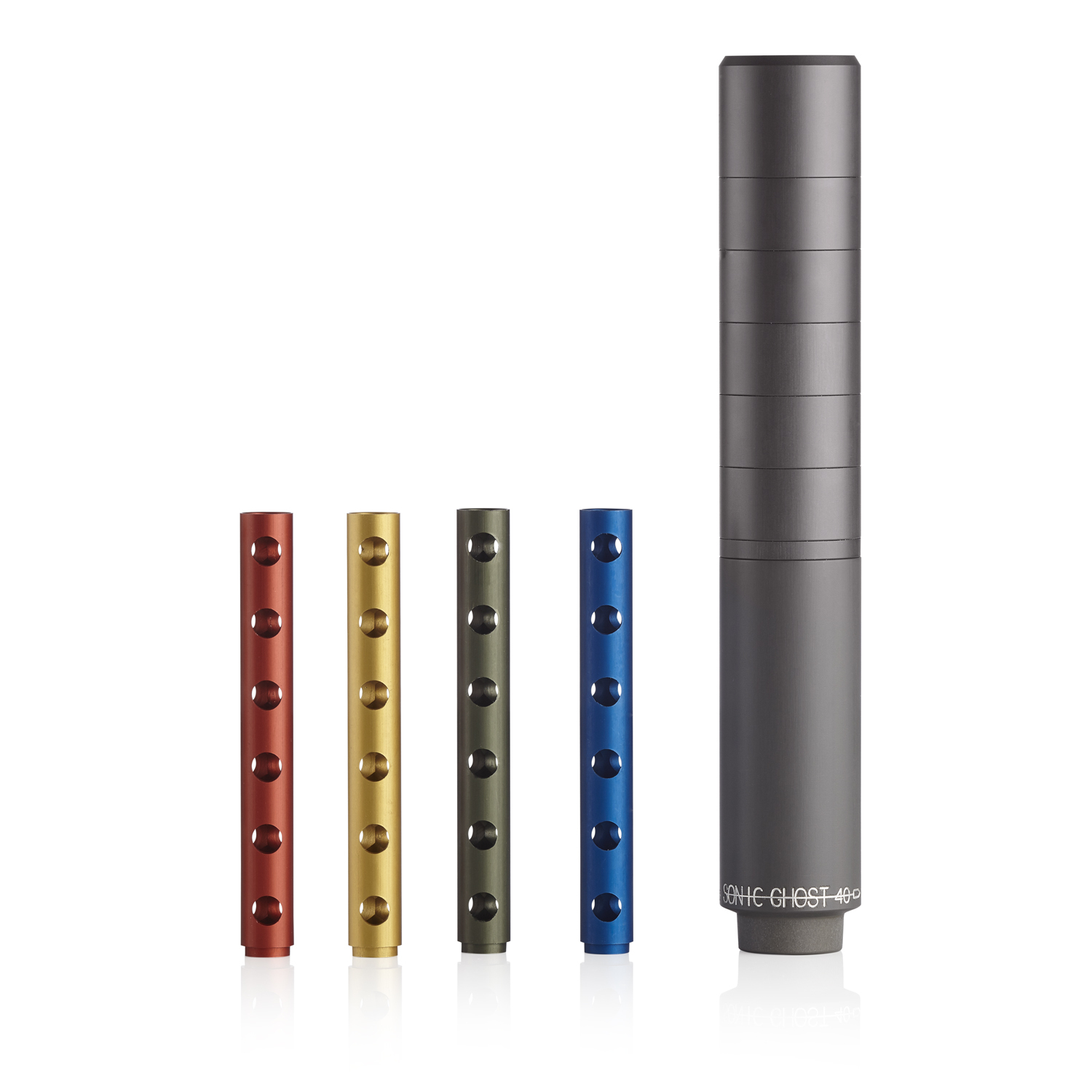 It is made out of high-strength aluminum to acquire a reduced weight. This suppressor is recommended for use up to the equivalent powder amount of .308 win.

MULTIPLE CALIBERS
The Ghost suppressors also has the possibility to be used on multiple calibers. when you buy a ghost suppressor there will be four different colored inserts included in the purchase.

These inserts all have different inner diameters that the user is able to quickly change to match another caliber. This makes it possible to use the same suppressor on multiple riffels/barrels.

Red - Max 6mm
Gold -Max 7mm
Green - Max 8mm
Blue - Max 9,5mm

LOW WEIGHT
In order to keep the weight as low as possible, the suppressor has been made of high strength aluminum. Which means that it, has a large volume compared to the low weight

Like any other lightweight suppressor on the marked, we have used less and lighter material to make the suppressor as light and handy as possible. This makes it handier and more comfortable to have equipped, but it can also have its limitations when firing large series of shots. Depending on the caliber, we recommend that you do not fire more than 10 to 25 shots in a row, before cooling the suppressor.
We only have 3 items left. Don't miss out!
Purchase of this item requires a firearms licence and a signed off Police Order Form for it to be shipped to you. Alternatively, you can purchase in store, or buy online and pick up from your nearest Wild Outdoorsman store without a Police order form. You can download the form here
CALIBER RECOMMENDATION
When choosing your suppressor it is important that you choose a suppressor that matches the caliber you use.
Because Ghost models can be used in several calibers, it is important to adapt to the largest caliber you want to use.


CHANGING INSERT
To change the insert in your Ghost suppressor simply unscrewing the lid. When the lid is unscrewed you will be able to see the colored insert. You can now lift out the insert and replace it with the desired insert. Then screw the lid on the suppressor again, and it is ready for use with the new insert.