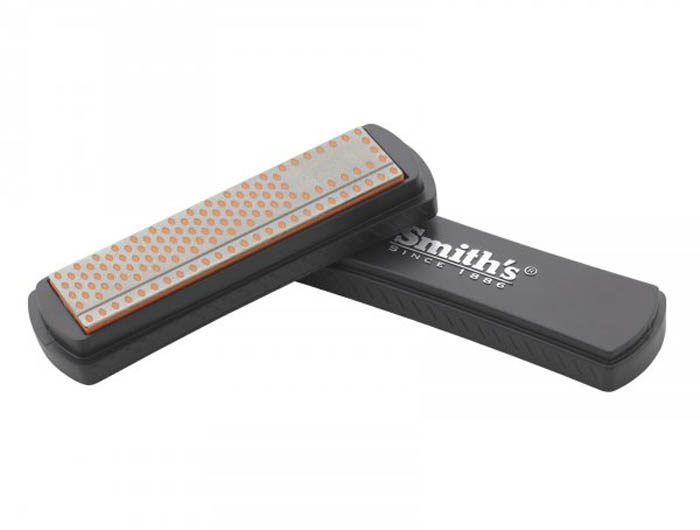 Smith's new 4 Diamond Sharpening Stone (item # 50363) features Smiths patented interrupted diamond surface which speeds the sharpening process by collecting and holding the metal filings removed from the knife or tool edge during sharpening. This keeps the sharpening surface clean and working effectively. The 4 Diamond Sharpening Stone also comes with a Micro-Tool Sharpening Pad for sharpening the tips of your knife blade and small tools, a straight-line sharpening groove for fishhooks and pointed objects, and a stone cover that doubles as a base when not covering the stone. It is excellent for sharpening even the hardest steel blades and works best on small to medium hunting knives, tactical knives, and everyday pocket knives.

* Interrupted surface speeds sharpening
* 750 grit diamond-coated surface
* Cover doubles as base extension
* Straight-line sharpening groove for hooks and pointed objects
* Micro-Tool Sharpening Pad for tips of your knife blade and small cutting tools
* Lightweight and compact

Abrasives: Diamond- Fine (750)
Sorry we are out of stock!
Details of the product above will be automatically included with your enquiry.