Outdoor Outfitters Knife and Scissor Sharpener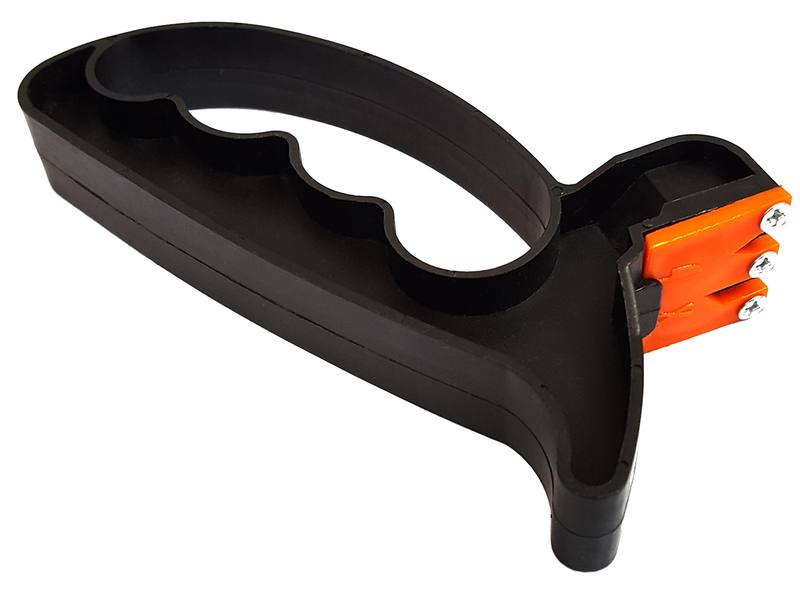 This marvelous wee tool sharpens both your knives and your scissors quick!

You will never have to cut paper or cardboard with blunt scissors ever again. When you need to sharpen that knife in the kitchen or workshop, just get hold of your Knife & Scissor Sharpening Tool and bingo instant sharpness again.

These are very simple to use with easy to follow instructions and diagrams included.

Knives

1. Place the knife on a solid flat surface with the cutting edge facing up.
2. Position the head of the sharpener at a 90 degree angle to the knifes cutting edge. While holding the knife with one hand and the sharpener in the other, draw the sharpener across the blade from the heal to the point while lightly applying downward pressure.
3. Repeat the process 3 pr 4 times or until your knife is sharp.

Scissors

1. For right-handed scissors begin by holding the hand with the words "Right Handed Scissors" facing you. Next place the flat base at the end of the handle on a solid flat surface.
2. Insert scissors blades as far as possible through the slots.
3. Close scissors on the sharpening rod and then pull the scissor through the slots while trying to keep the blades closed. Repeat this process at least 3 or 4 times. If you prefer you can push scissors through unit instead of pulling.
4. To sharpen left-handed scissors hold head of sharpener in your right hand with the words "Left-Handed Scissors" facing you and then repeat steps 2 & 3.

The "Floating sharpening rod that conforms to the exact angle of your scissors. These work on both left and right handed scissors.
Sorry we are out of stock!
Details of the product above will be automatically included with your enquiry.