Netting Supplies Delux English Ulstron Whitebait 15' Scoop Net Bag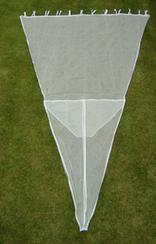 This whitebait net is made of high quality English ulstron long known to be the best material for durability and low drag resistance. The net is locally made in Canterbury to high standards by Netting Supplies

These are made for the serious whitebaiters, with approx 800mm extra length.Made in English ulstron.
We only have 4 items left. Don't miss out!