Buffalo River Maxim Skinner Knife - Orange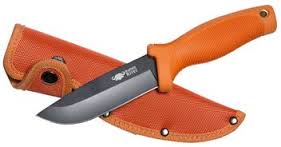 RUBBER HANDLE - GREAT GRIP
4.5 INCH BLACK BLADE
420 STAINLESS
QUALITY NYLON SHEATH

The Maxim Series has been designed for hunters and farmers wanting knives that offer long life blades and functional non-slip handles. When you first hold the Maxim Fixed Blade knives you will immediately appreciate the comfortable non-slip handle that is a feature of this range. All the fixed blade models have a blade that extends into a shank that runs the complete length of the handle. This provides added strength and durability. The blades are 420 which allows ease of sharpening and blade care. The fixed blade knives are supplied with a durable Nylon sheath designed to hold the blade securely when not in use.