Stoney Creek Dreambull Overtrouser - Tuatara Alpine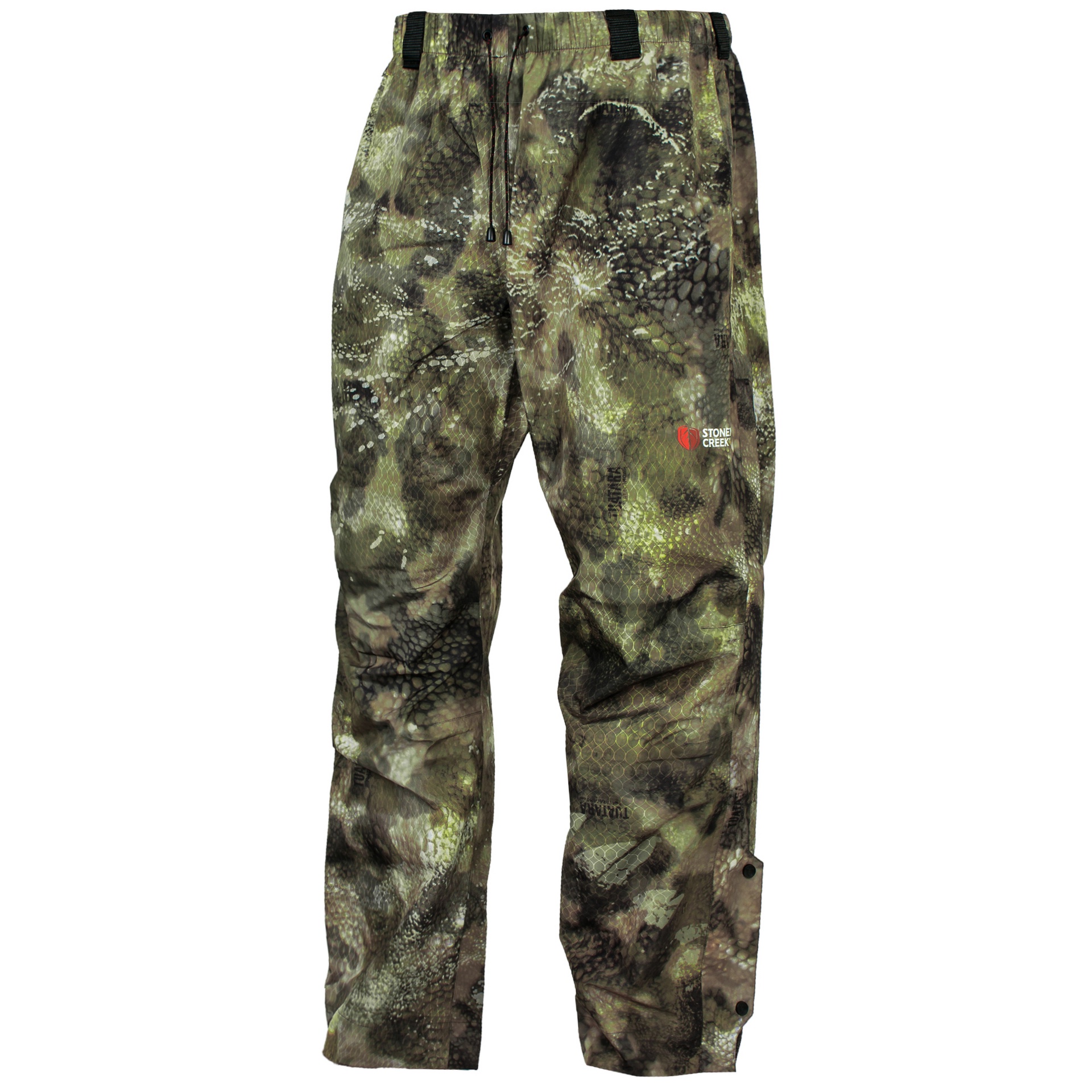 PURPOSE BUILT FEATURES
- Inseam gusset for unrestricted movement when climbing hills
- Includes storage pouch for ultra-compact packability
- 2 Elastic and drawcord waist for secure fit over multiple layers
- 3 Ultra lightweight, only 398gms (based on size L)
- Knee high zips makes them easy to get on and secure over your boots
GIVING YOU THE EDGE
The packable overtrouser to keep you dry during those unexpected downpours, or that quick dash through the bush. A 3-layer polyester, 100% waterproof, 100% windproof, 100°/o seam sealed, breathable, the tightly woven 'construction and DWR coating combined to stop the fabric soaking up the water.
ULTRALITE FABRIC
OUTER LAYER:
- Polyester Pongee 150gm
- DWR coated to actively repel water, blood and dirt
HYDROPHILIC MEMBRANE:
- 100%Waterproof (10,000mm tested)
- 100% Windroof
- Breathable
LINING:
- 20D Polyester Tricot mesh
TUATARA® CAMO
All camouflage is designed to make you hard to see. But that's just the table stakes in the world of hunting. The elite hunter is searching for far more. More than just an edge, more than getting close. It's the ability to have total control over a situation. So you can challenge every aspect of a hunt, take time, reflect, respect and choose. Tuatara® Camo puts you in a zone like no other and takes you closer to your prey than ever before. Closer than you ever dared. Become one with the land. Take your time and choose your next move. Raise the bar, challenge old traditions, embrace your primal instincts and rewrite every definition of the word 'stealth'.
Tuatara® Camo. Hunting as nature intended
TECHNICAL BY NATURE
Tuatara® Camo takes hunting to the next level. We've redefined what it means to hunt undetected with four key technical design elements that will confuse the animal eye and enable you to become one with your hunting domain.