Leatherman OHT Multi Tool With Sheath
U P D A T E
As at 3pm Tuesday 24.03.2020
We are open on the 24th and 25th while the level 3 lockdown is in place. 
Normal hours Tuesday. 9am - till we slow down on Wednesday. This includes both Greymouth & Hokitika stores.
*** We will be in lockdown for a minimum of 4 weeks ***
Services: 
* Mountain Radios - no new radios will be issued or hired until alert level has been reduced to level 1 
* NZ Couriers - The Hokitika Branch is a Depot for NZC, this will mean that NZC customers will have to contact NZC direct in Christchurch to organise pick ups and or purchase bags & tickets. 
you can find a contact here - https://www.nzcouriers.co.nz/
We will do our best to fulfil any online orders made. Our website will still be operational during lockdown and any orders will be shipped when the lockdown is lifted.
Keep safe team !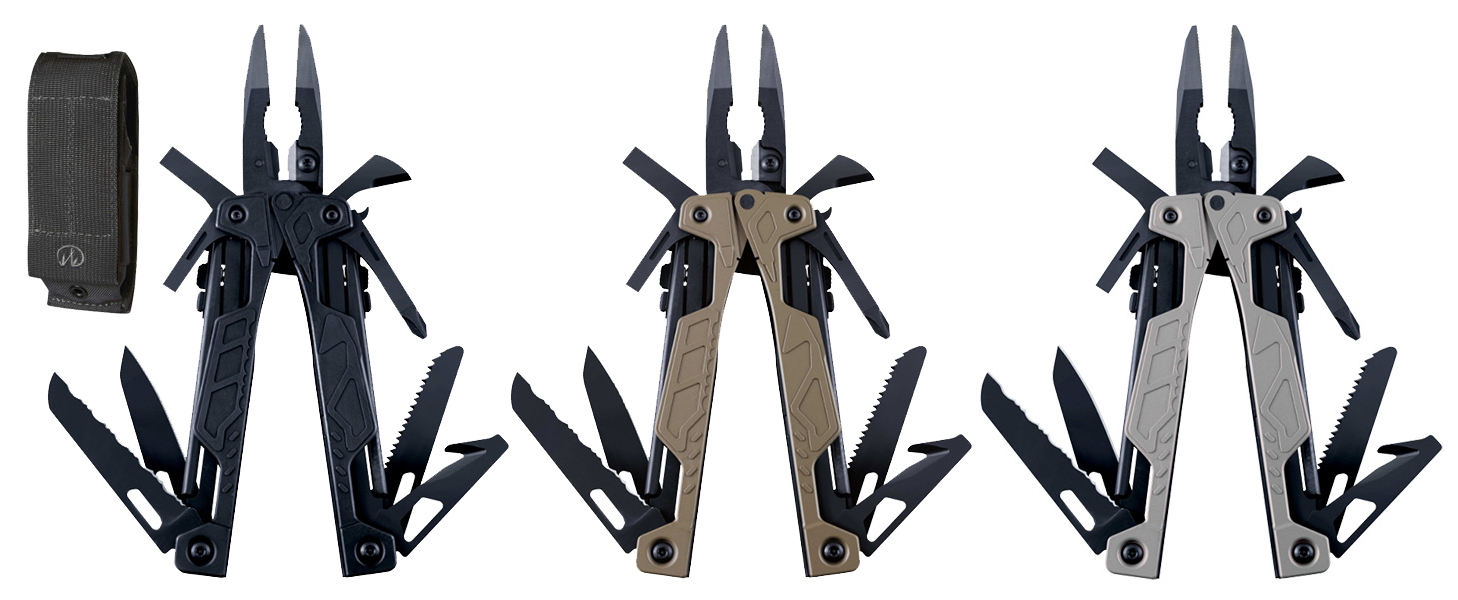 For years multi-tool users could choose from two distinct options when it came to a "one-hand-operable" multi-tool: one-hand-opening pliers OR one-hand-opening blades. Now, Leatherman has taken these two well-loved ideas and fused them into the first ever, 100% one-hand-operable multi-tool, the Leatherman OHT.

This industry-first tool features spring-loaded pliers and wire-cutters so you don't tire your hand adjusting and readjusting your grip. Handles with visual imprints of the tool beneath make for quick identification. A lifesaving strap cutter and oxygen bottle wrench, threading for common-size cleaning rods and much more make this a one-handed workhorse of a tool. Covered by Leatherman's 25-year warranty.

Includes: MOLLE Sheath.
We only have 5 items left. Don't miss out!
All locking blades and tools - 

Every tool and knife on the body of the handle will lock into place, providing extra safety.

Jaw lockout - 

A feature that locks the plier jaws in place, safely preventing the jaws from slipping into the handles during use.

Outside-accessible features - 

A number of tools that can be accessed while the tool is folded or closed, for extra convenience.

One-hand operable features - 

Every feature on this tool can be opened and operated with one hand, so you can keep your other hand free.

Imprinted handle scales - 

Handles are imprinted with images of the tool underneath, allowing you to easily feel for the correct tool while in the dark or in low light.

Made from stainless steel - 

An improved, high-carbon (HC) form of 420 stainless steel. It's strength is optimised in Leatherman multi-tools by heat treatment

25-year warranty - 

Guarantees your Leatherman will give you many years of dependable service
Tools & Blades
| | |
| --- | --- |
| 1. Spring-action needlenose pliers | |
| 2. Spring-action regular pliers | |
| 3. Spring-action 154CM replaceable hard-wire cutters | |
| 4. Spring-action 154CM replaceable wire cutters | |
| 5. 420HC knife | |
| 6. 420HC serrated knife | |
| 7. Saw | |
| 8. Strap cutter | |
| 9. #8-32 cleaning rod/brush adapter | |
| 10. Can opener | |
| 11. Bottle opener | |
| 12. Oxygen tank wrench | |
| 13. Phillips screwdriver | |
| 14. Large screwdriver | |
| 15. Medium screwdriver | |
| 16. Small screwdriver | |
Measurements
| | |
| --- | --- |
| Length | 11.5cm |
| Weight | 280.6g |
| Blade length | 6cm |