Umarex Beretta 92FS Spring BB Gun Clear/Black - 6mm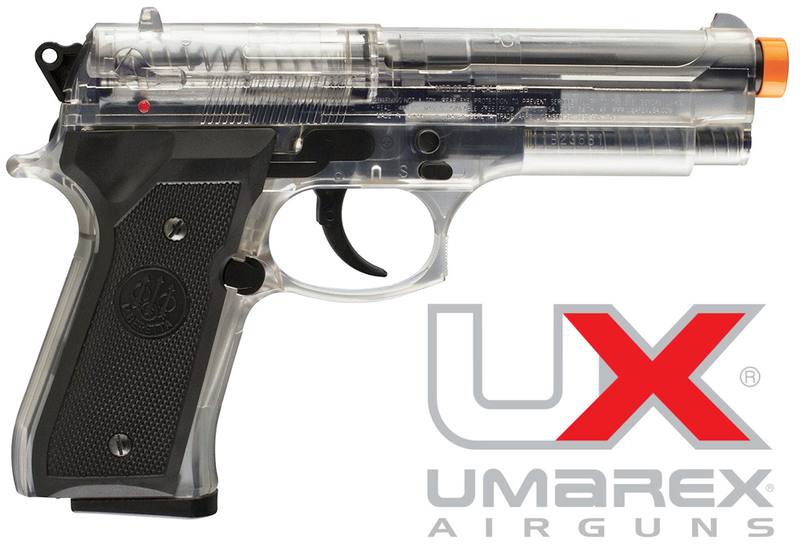 This Beretta Mod. 92 FS replica by Umarex is spring-powered, single-shot BB gun that fires 6mm plastic BB at velocities of up to 260 feet per second (using 0.12g BBs). With its durable internals, tough ABS Polymer construction, and metal barrel makes this pistol both accurate and reliable. Just what you need for your next game of 'BB Wars!'
Savings:
NZ$
20.00
(a 20% discount)
Sorry we are out of stock!
Purchase of this item requires a signed Police Mail Order Form, you will need to complete a Police Order Form and take it into your local police station to have it signed off. The form can be found from the link below. You can download the form here
• Velocity: Up to 260 feet per second (using 0.12g BBs)
• Action: Single-shot
• Colour: Clear/Black
• Magazine capacity: 12
• Drop-free magazine
• Calibre: 6mm plastic BB
• ABS Polymer Frame/Slide Construction
• Smooth Metal Bore Barrel
• Fixed front and rear sights
• Officially Licensed & Trademarked
• Includes 500 BBs.
Details of the product above will be automatically included with your enquiry.