SOG Woodline Folder Skinning Knife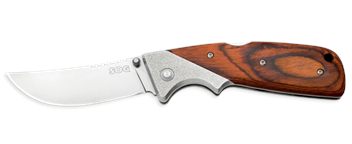 That feeling of leaving civilization behind as you move out of the valley and into the woodline is the inspiration for this series of fixed blades and folders.

These big upswept blades meet the challenges of extreme camping, hunting and survival chores.

The Sog Woodline Folder Blade manufactured out of 8Cr13MoV Stainless Steel is anchored in a Handle with Stainless Steel Bolsters and beautiful Hardwood. The Handle Configuration insures a solid grip regardless of what nature throws at you.

The thumb grooves on the blade allow the application of downward pressure as well as give greater dexterity.

The Upswept Skinning Blade locks into place with a tight Lockback that is integrated into the Handle.

The Sog Woodline Skinner stores in a Quality brown Leather Belt Pouch with a 65 mm Belt Loop.

SOG Woodline... a confidence builder when out in the country where man is the minority.
We only have 1 item left. Don't miss out!
Blade: 8Cr13Mov Stainless Steel

Blade Length: 90 mm

Length Open: 200 mm

Length Closed: 115 mm

Rockwell Hardness: HRC 57-58

Blade: Upswept Skinner, Straight Edge

Blade Finish: Satin Finish

Opening: Ambidextrous Thumstuds

Blade Thickness: 2.8 mm

Handle: Stainless Steel Bolsters

Lock Style: Back Lock

Weight: 174 grams

Sheath: Leather Pouch, Brown

Origin: China