Ridgeline Mens Breeze Tee - Blue Camo
U P D A T E
As at 3pm Tuesday 24.03.2020
We are open on the 24th and 25th while the level 3 lockdown is in place. 
Normal hours Tuesday. 9am - till we slow down on Wednesday. This includes both Greymouth & Hokitika stores.
*** We will be in lockdown for a minimum of 4 weeks ***
Services: 
* Mountain Radios - no new radios will be issued or hired until alert level has been reduced to level 1 
* NZ Couriers - The Hokitika Branch is a Depot for NZC, this will mean that NZC customers will have to contact NZC direct in Christchurch to organise pick ups and or purchase bags & tickets. 
you can find a contact here - https://www.nzcouriers.co.nz/
We will do our best to fulfil any online orders made. Our website will still be operational during lockdown and any orders will be shipped when the lockdown is lifted.
Keep safe team !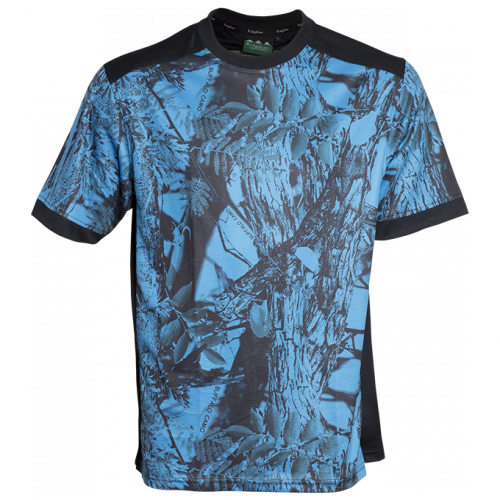 A classic design created from our lightweight, moisture-wicking Cooldry fabric with contemporary side panel design to enhance the looks as well as performance.
This much requested garment is made from our fantastic Cooldry material.
The Ridgeline Breeze Tee:
Wicks moisture away from the body
Is remarkably smell-proof
Is lightweight
Is breathable
Has surprising windstopping abilities
Is easy-care with no shrinkage or fading
Works equally well as a base or top layer

The Ridgline Breeze Tee has been made to look good, with black highlighted side/arm panels & sleeve ends - as well as perform!
Wear one and you'll not want to take it off!
Made of Ridgeline Cooldry Fabric:

A revolutionary design created from a lightweight, moisture-wicking 100% polyester fibre, 145gsm. Lightweight and breathable, this fabric wicks away moisture from your body to leave you dry and comfortable. Perfect as an outer layer for warm conditions or internal base layer for cold
Sorry we are out of stock!