Minox Trail Camera DTC 450 Slim - Camo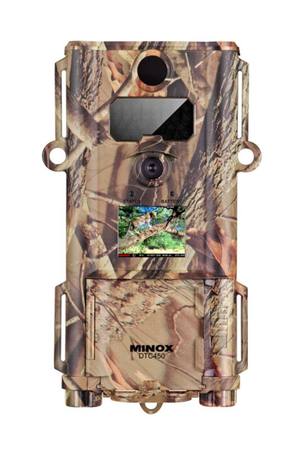 With the extremely slim and contoured design of the DTC 450 SLIM, these wildlife cameras can be mounted on nearly any tree and remain almost completely undetected - the perfect obeservation cameras for covert observation of wildlife or private property.
We only have 1 item left. Don't miss out!
●    Invisible IR-flash with a range of 15 m
●    12, 6, 3, 0.9 MP (adjustable)
●    Special MINOCTAR lens
●    720p HD video resolution
●    Fast shutter release (<1 sec)
●    Up to 9 consecutive images and 60 second videos
●    Multi-lingual menu navigation
●    Date (Eur. format DD/MM/YYYY, 24h), time, temperature, moon phase
●    SDHC memory card up to 32 GB
●    Convenient 2" colour display
●    Battery life up to 6 months
●    Robust and weatherproof polycarbonate housing
●    USB port
●    Padlock ready
●    Comes with 2 mounting straps and USB cable
 Sensor (Hardware resolution): 3 MP
 Adjustable resolutions: 12 / 6 / 3 / 0.9 MP
 HD video resolution (720p: ●
 Video length: 10 - 60 sec.
 Photo burst per release: 1 - 9
 Images in colour (day): ●
 Images in B&W (night): ●
 2'' TFT colour display: ●
 Invisible infrared flash: ●
 Flash range: approx. 18 m
 AA batteries: 8    
 Multi-lingual menu navigation: ●
 Password protected: ●
 USB port: ●
 1/4" tripod thread:  ●
 Dimensions (WxHxD) in mm: 110 x 210 x 27
 Weight: approx. 320 g