Buffalo River 223Rem OSA Sierra 55gr Blitzking
U P D A T E
As at 3pm Tuesday 24.03.2020
We are open on the 24th and 25th while the level 3 lockdown is in place. 
Normal hours Tuesday. 9am - till we slow down on Wednesday. This includes both Greymouth & Hokitika stores.
*** We will be in lockdown for a minimum of 4 weeks ***
Services: 
* Mountain Radios - no new radios will be issued or hired until alert level has been reduced to level 1 
* NZ Couriers - The Hokitika Branch is a Depot for NZC, this will mean that NZC customers will have to contact NZC direct in Christchurch to organise pick ups and or purchase bags & tickets. 
you can find a contact here - https://www.nzcouriers.co.nz/
We will do our best to fulfil any online orders made. Our website will still be operational during lockdown and any orders will be shipped when the lockdown is lifted.
Keep safe team !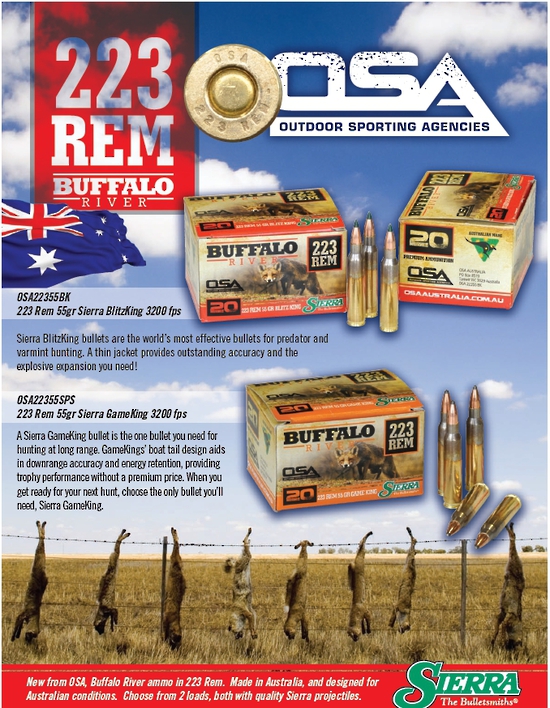 The 223 would be one of the most fired cartridges in New Zealand . Shooters are always looking for quality, accuarate, reliable and affordable ammuniton for their 223's. OSA has provided this with our line of 223 ammuntion, Made in Australia.

The Sierra BlitzKing bullet used in this ammuntion has long been a favourite of professional shooters in New Zealand, for its performance and consistency. Sierra BlitzKing bullets are the world's most effective bullets for predator and varmint hunting. A thin jacket provides outstanding accuracy and the explosive expansion you need!
Sorry we are out of stock!
Firearms, All firearms & ammunition sales must be accompanied by police purchase form, forms can be filled out at your local police station. This form must then be sent to our store before purchase.
For your nearest Firearms Office please Click Here