Air Chief CP1-M CO2 .177 Air Pistol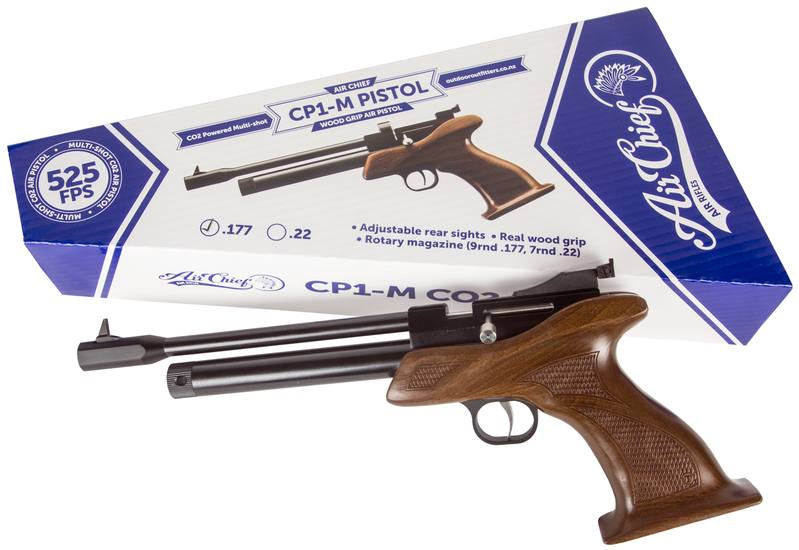 The Air Chief CP1-M is a quality CO₂ powered air pistol capable of multiple shots with its fast reloading mechanism and the 9-round rotary magazine or precision single shots with the use of the single shot loading base.
Sorry we are out of stock!
The stock is constructed out of a stained wood with a checkered grip and palm shelf; giving it a great competition feel and superb accuracy. Powered by a 12-gram CO₂ powerlet (sold separately; click here for more information) which is loaded into the cylinder below the barrel, and provides approximately 40 to 50 shots with a muzzle velocity of up to 525 fps.

Fitted with a fully adjustable rear and a fixed front sights, the CP1-M also comes with an 11 mm Dovetail mount, perfect for fitting optical sights (with the removal of the stock rear sight) such as a Red Dot or pistol scope.


• Calibre: 4.5 mm / .177
• CO₂ powered via 12 g CO₂ powerlets (sold separately)
• Action: Bolt-action
• Safety: None
• Velocity: Up to 525 fps
• Fully adjustable rear sight
• Fixed front sight
• 11 mm Dovetail for fitting optical sights
• Barrel length: 210 mm
• Overall dimensions: 390 mm (L) x 146 mm (H) x 45 mm (W)
• Weight: 888 g
• Magazine capacity: 9-shot or single-shot loading base
• Energy: Approximately 5.5 ft/lbs