Back Country Cuisine Soups
U P D A T E
As at 3pm Tuesday 24.03.2020
We are open on the 24th and 25th while the level 3 lockdown is in place. 
Normal hours Tuesday. 9am - till we slow down on Wednesday. This includes both Greymouth & Hokitika stores.
*** We will be in lockdown for a minimum of 4 weeks ***
Services: 
* Mountain Radios - no new radios will be issued or hired until alert level has been reduced to level 1 
* NZ Couriers - The Hokitika Branch is a Depot for NZC, this will mean that NZC customers will have to contact NZC direct in Christchurch to organise pick ups and or purchase bags & tickets. 
you can find a contact here - https://www.nzcouriers.co.nz/
We will do our best to fulfil any online orders made. Our website will still be operational during lockdown and any orders will be shipped when the lockdown is lifted.
Keep safe team !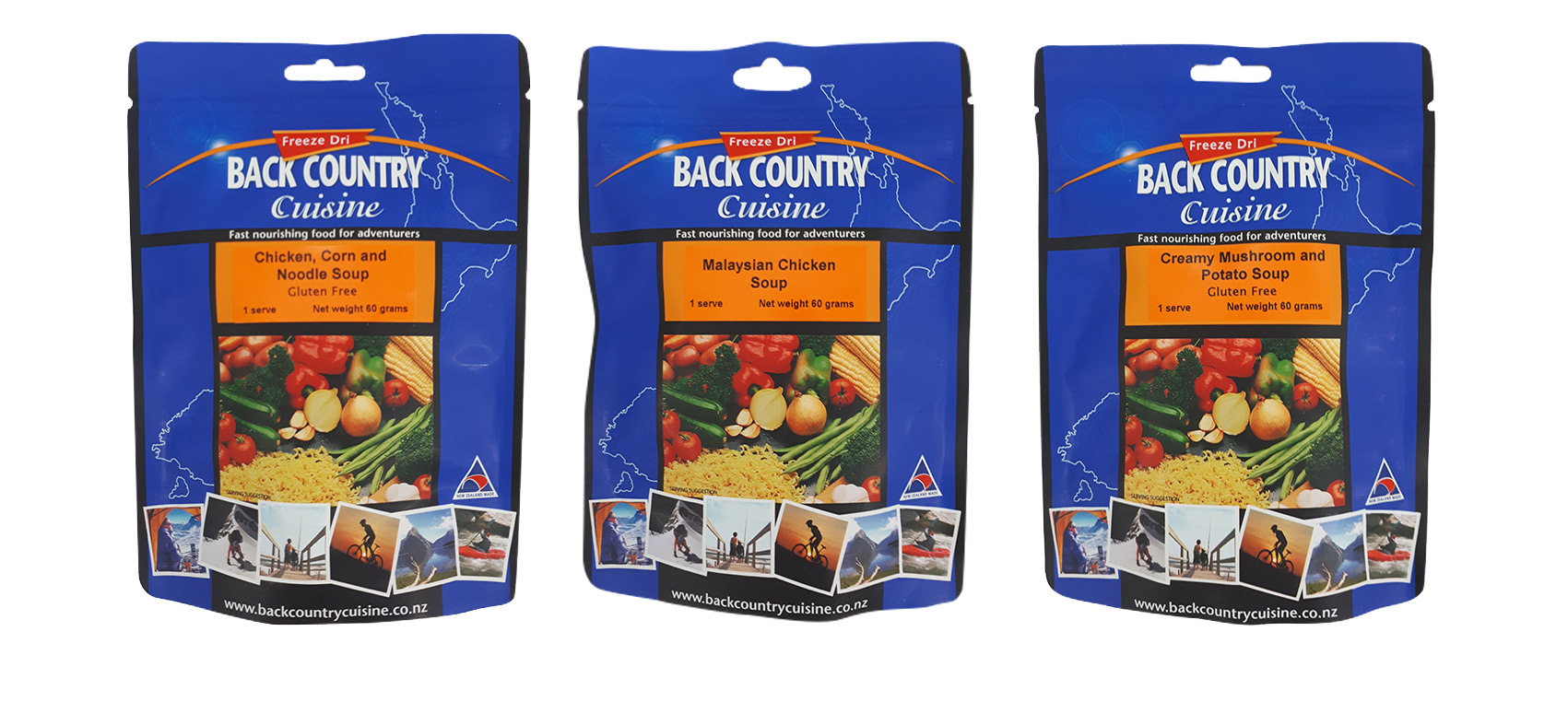 Back Country Cuisine has a wide range of options to suit many diets, including vegetarian and gluten-free. Take a look through our product offering to find the perfect range of freeze dried meals to accompany your next adventure.
MALAYSIAN CHICKEN SOUP
Malaysian-inspired curry flavoured soup with chicken and noodles.



INGREDIENTS: Sauce [Thickener (1442), Sugar, Maltodextrin (Maize), Dehydrated Vegetables (Onion, Garlic, Celery), Salt, Coconut Milk Powder (Milk), Flavour, Herb & Spice, Soy Sauce (Wheat), Sesame Oil, Colour (150a), Dextrin, Shrimp Paste, Fruit Oil (Lime)], Rice Noodles, Chicken 8%[Chicken, Soy Protein, Salt, Stabilizer (450, 451)], Red Pepper, Onion

ALLERGENS Contains: Soy, Milk, Sesame, Crustacea, Gluten Manufactured in premises that process gluten, dairy, egg, soy, fish, tree nuts, sesame and sulfite products. An allergen management programme is implemented to store allergen products separately and ensure thorough cleaning between product lines. No added MSG (mono sodium glutamate E621), but glutamate products may be present from other processed ingredients.


Serves per pack 1 | Net weight 60g | Preparation Add 300ml of water, stir and stand for 10 minutes | Serving size 360g